Many aspiring voice actors have spent a great deal of time trying to determine if formal training is necessary to pursue a career in voice over. Although you don't technically need to get a degree in voice acting (or in any of the performing arts for that matter), there are many benefits to enrolling in a formal training program. A college or university arts program can offer very valuable educational and practical experiences to help you sharpen your skills. Such a program would also offer exposure to voiceover equipment, studio work, audition processes, and high-quality recording experiences that you might not be able to get elsewhere. 
Here is something important to keep in mind: most colleges don't offer a major or degree in voice acting. This is seen as just one lane in the world of acting, and most arts programs that do feature voice over programming tend to combine them with other arts avenues. If you are someone considering a college experience in the arts to support your learning, your best bet will be a theater/acting department or a music/audio production training program.
Below are some top college and university arts programs with training in voice over!
Pace University (New York, NY)
Located in New York, The Pace School of Performing Arts includes voice acting in their BFA program for Film, Television, Voiceovers, and Commercials. This is a conservatory program, which means that your primary focus of study would be in the arts, and you wouldn't need to take many of the traditional requirements that a liberal arts setting would require. This program provides a well-rounded education in on-camera and audio media. Students are able to participate in industry showcases and the creation of personal demo reels to be used in the professional world once they graduate. Pace boasts regular partnerships with successful industry professionals to enrich the student experience.
Temple University (Philadelphia, PA)
An appealing aspect of Temple University's Department of Theater is that it offers a certificate in Voice and Speech. Specialized vocal techniques are offered, including The Fitzmaurice vocal method. Temple's arts programming is vast, with many advanced offerings in The Boyer College of Music and Dance and the School of Theater, Film, and Media Arts which both reside in Temple University's Center for the Performing and Cinematic Arts. Temple's voice and speech program aims to support students in many lines of work, improving public speaking skills and presentation techniques and allowing them to develop their autonomy as regular speakers in the professional world. It is important to note that Temple's certificate in Voice and Speech is really designed for students outside of the Theater program. The program consists of 12 credit hours and prepares students to pursue voice acting as a profession.
Wichita State University (Wichita, KS)
Another university program that offers a certificate in voice acting is Wichita State University in Wichita, KS. An offering from their School of Performing Arts, the certificate program gives students access to many theater and acting professors with experience in both live theater and broadcasting. Students who enroll in Wichita's program will study both theatrical acting and vocal performance. This program sharpens students' skills in vocal health and diction as well as their ability to master a multitude of pronunciations from various regions throughout the world. The certificate in voice acting also includes educational programming on the business of voiceover, audio production, and equipment setup and effective usage. Not only will students be prepared to function at a high level in professional recording studios, but they will also be prepared to choose high-quality equipment for their home setups.
California Institute of the Arts (Santa Clarita, CA)
If a private school seems like a good fit for you, the California Institute of the Arts in Santa Clarita, California would be a great option. With excellent programming in voice acting, CalArts is one of the first institutes of higher learning to offer degrees in the visual and performing arts. All students who enroll in CalArts performing arts programs are paired with a faculty mentor to supervise their learning and guide their professional growth. Many professors are also working professionals who provide a constant link to the outside working world. This program offers excellent training in voice over work. Additionally, CalArts partners with ProADR Looping & Voice Casting to produce an annual Voice Over showcase to prepare graduating students to enter the professional world.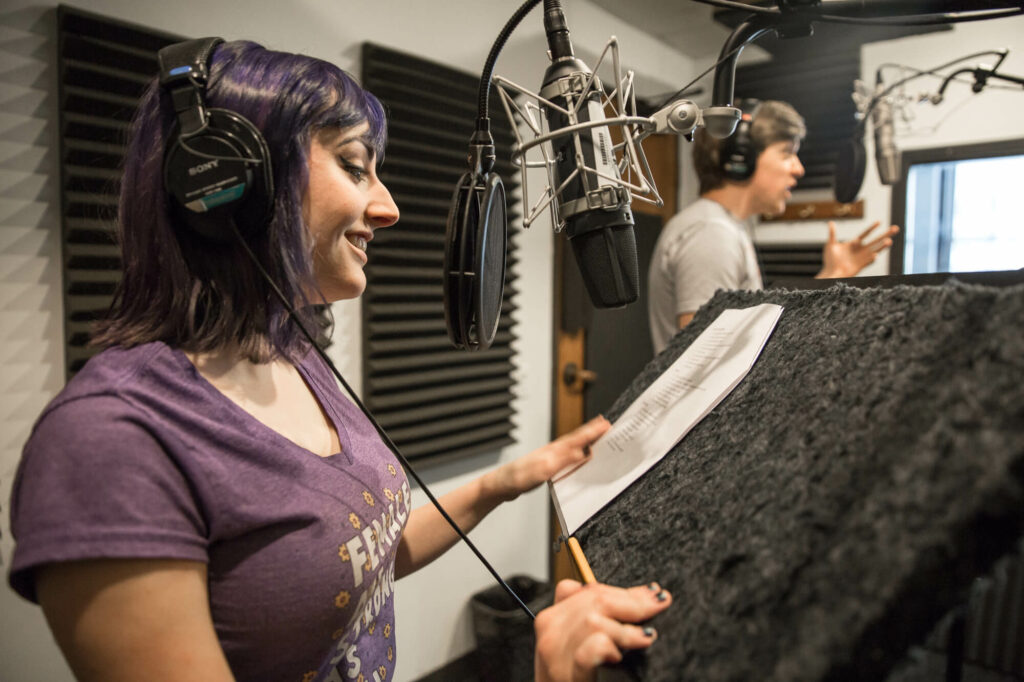 Columbia College (Chicago, IL)
Since many colleges and universities don't actually offer a major in voice acting, it's always helpful to look for certificates (as mentioned above) or other measurable ways to document your learning. Columbia College in Chicago is a terrific option, because it offers a minor in voice over. This detailed program prepares students for all divisions of voice over including audiobook narration, commercials, animation and more. Students will study radio production, demo creation, and voice over basics, building a strong foundation for a future in voice acting. Additionally students will learn how to properly care for their voices and master breathing techniques, projection, and pronunciation.
So how do I decide?
It's important to remember that you do not need formal training to succeed as a voice actor, but it certainly can help. Taking the time to develop your skills can prepare you for the professional world in countless ways. Enrolling in formal programs can also help you to make connections and network within the industry. In addition to arts programs at institutions of higher education, there are also many excellent coaching and class programs both online and in person. As an alternative to a college program, you might consider working with a voiceover coach one-on-one or taking classes and workshops through acting schools and online learning programs.
The most important thing is that you are fully ready to compete at a professional level, so do what you need to do to prepare your voice, your studio, and your demos so you can be the very best that you can be as you continue to pursue your career as a professional voiceover artist!